The plan is set: You're gearing up for a trade show! Great, your target audience will be there in large numbers. Which means lots of potential customers! However, this also means significant preparation. Besides arranging the tradeshow booth and everything around it, you want to make it a profitable happening. That's why we're here to help you with some smart tips, so you can make the most out of each show.
Set measurable goals: Before entering the trade show, it's crucial to define clear and measurable objectives. Do you want to generate leads, strengthen your brand, boost sales, or expand your network? Make sure your goals are measurable. This way, you can evaluate their achievement afterward and determine your Return on Investment (ROI).



Make a budget plan: A detailed budget plan is essential for a successful exhibition participation. Consider all costs and expenses. A realistic budget plan provides financial control and helps prevent unpleasant surprises.



Implement effective lead generation: Implement a structured lead generation and follow-up process. For example, use lead capture technology or digital forms to record data. When you then develop a well-thought-out follow-up strategy, you effectively convert leads into concrete actions.



Invite current customers to your exhibition stand: When inviting current customers, you take advantage of multiple opportunities. Face-to-face interactions provide space to gather feedback and measure customer satisfaction. In addition, this also creates cross- and upselling opportunities and creates space to present new products or services.



Learn from previous experiences: Evaluate each trade show participation and analyze the financial results. Learn from weaknesses and build on strengths to optimize future trade show participations.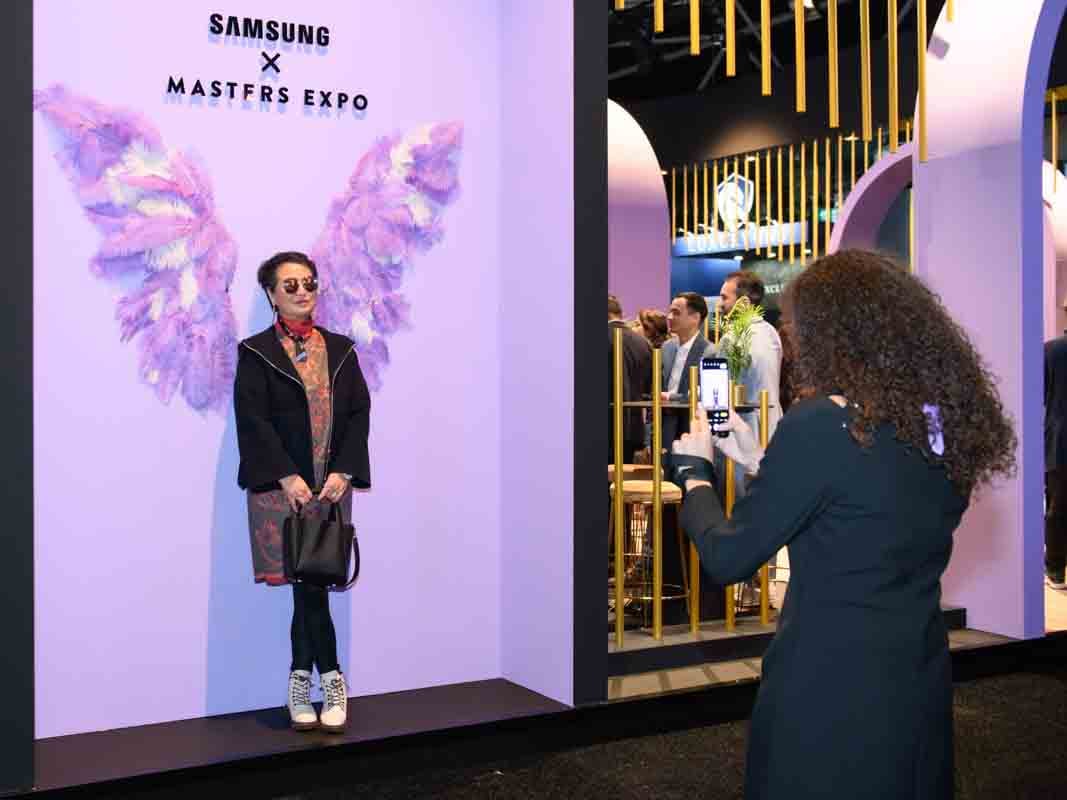 THE NEXT STEP: IDEAS TO ATTRACT VISITORS TO YOUR BOOTH
Have you completed the above steps? Great, then you're ready for the fun part! To ensure your stand achieves maximum ROI, we've gathered some original ideas for you:
Create a personalized exhibition experience: Utilize technology such as RFID tags or chip-enabled badges to gather information about visitors. This enables tailoring the experience for each visitor, offering content, promotions, and activities that align with their interests and needs. A personal approach increases the chance of conversion.



Implement gamification: Turn your exhibition stand into a playful environment. Create an interactive game that visitors can play while discovering your brand. Ensure the game is relevant to your brand or products, and reward participants with prizes or discounts. Gamification attracts attention, creates a positive atmosphere and more interaction with potential customers.



Host an exclusive VIP event: Invite a select group of potential customers or decision makers to a special VIP event at your stand. Offer an exclusive preview, demonstration, or networking opportunity. By creating exclusivity, you increase the chance of in-depth conversations, quality leads and possibly direct sales.
Create a unique social media activation: With a special and shareable experience in your stand, you ensure that visitors can capture and share their experience on their socials. This increases brand awareness and generates buzz on your online platform.
Curious about which expo boosters you can use next? We've listed them for you. If you're ready to impress with your exhibition stand, don't hesitate to get in touch.