As an exhibitor, you are one out of many exhibitors who wants to attract the attention of passing visitors. It can be quite challenging to catch this attention in the middle of so many others who are trying to do the same thing. So how do you ensure to stand out amongst all other exhibitors? These 7 tips help you to achieve maximum exposure of your stand during trade shows and events.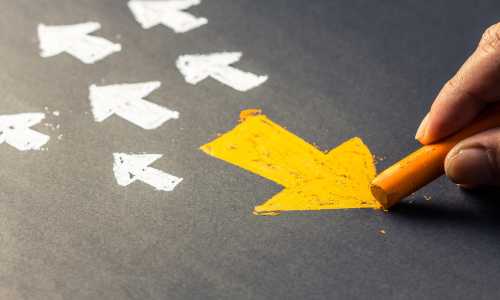 A striking stand
We wouldn't be a standbuilder if we didn't emphasize the importance of the exhibition stand itself. The basis for a good exhibition participation is to design a stand that, well, stands out. There are plenty of different possibilities to achieve this, but the most obvious one is to heighten up your stand. You can either choose to heighten the entire stand by adding a second floor or heighten one or multiple walls so that your logo is clearly visible. In addition, the choice for a bright colour often highlights the entire stand which can help to attract the attention of trade show visitors.
Appropriate lighting
Appropriate lighting works like make-up: it accentuates the most important elements from the stand. Therefore, you should make sure that the entire stand is well lit, and that special elements are highlighted by using LED strips or get more attention by placing LED strips or spotlights. Keep in mind that too much lighting can also negatively affect the appearance of the stand. If you work with a good-quality standbuilder, lighting shouldn't be an issue.
#Social media
Think outside the box! If your exhibition stand stands out at the trade show, it will probably stand out online as well. Nowadays, social media offers plenty of opportunities to get in touch with your target group. If you participate in multiple events each year, your followers might visit the next event when you keep them updated. Social media allows you to extend the reach to your target group and helps you to show the market you're investing in business development. Want to know more about how to use social media as part of your exhibitions? Click here.
Plan activities
Activities on the stand are an effective way to draw attention at trade shows. The right activities can really make a difference in the event's results. A good example of a stand activity is the case of JVC. At IBC 2017, they A good example of make a huge difference With a really good idea this can even make the difference between an excellent exhibition and a very successful exhibition. A good example is the JVC stand. At the IBC in Amsterdam they gave a demonstration of their high-end video equipment by simulating a broadcast of a soccermatch. We installed an entire downsized soccer field onto the stand. Due to this genius idea, JVC's exhibition stand has been crowded throughout the show.
Bites and drinks
Did you know that the average visitor spends about 5 hours at a trade show? After all of these hours, a tasty bite or drink is often a welcome surprise. It can make a difference in people walking by or deciding to pay a visit to you. This is the moment you can have a chat with them. Cause let's be honest: who would go to the competitor if you've got tasty food?
An exhibition theme
A recognizable theme on the exhibition stand is an excellent marketing tool. Choose a theme that is related to an existing campaign or use it as an introduction to a new product or service. Consider each exhibition stand a new, creative project for achieving your marketing objectives and create a little branded world where your visitors can experience the message you want them to hear.
Finally
Do care about the details and finish of your stand. Do care about the work your standbuilder has delivered and challenge them to get into your mind. Exhibitions offer great opportunities to get in touch with new customers, partners and suppliers. in other words, exhibitions offer opportunities for the growth and development of your business. The exhibition stand is your business card to achieve that growth.
Better make it count!