On the bustling trade show floor, it's all about grabbing attention, and stunning signage is an absolute must! When you use this visual force effectively, you instantly grab the visitors' attention. Meet our Traffic Manager Aardt, who's the mastermind behind this. He acts as the bridge between our clients, suppliers, and production team. He shares insights into what signage is and how it can work best for you.
So, how did you land in this role?
My journey in the world of stand building began with a graphic education at Cibap, followed by graphic design studies at the Minerva Art Academy. I spent four years working at a signage bureau, but I kept feeling a stronger urge for a new challenge.

When Vincent, a friend of mine and a project manager at KOP, told me about the Traffic Manager position at KOP, I was immediately enthusiastic. I truly appreciate KOP's commitment to maintaining high-quality standards and consistently going the extra mile for our customers at every turn. I always aim for the very best results, which is why I wanted to join this team.

Aardt makes signage stick
Why is good signage crucial for exhibition stands?

Signage is the calling card of a stand. It's the way to attract people to a booth, strengthen the brand, and convey the message clearly. What makes good signage is that it stands out, is easily understandable, and aligns with the company's style. This ensures that (potential) customers recognize the brand immediately and leaves a lasting, professional impression that won't be easily forgotten.
What's the process for creating signage?
First, our account managers have conversations with the client to understand their needs. Designers then translate these specifications into a stand design. If the client approves, project management and I swing into action.


To simplify my role, let's take a printed fabric in a stand as an example. I create a format for the client, specifying how they should provide files for it. I ensure that everything is visible, so no images or logos get lost.


We determine the deadlines for completion and discuss whether the client prefers to handle the signage artwork themselves or if I should take care of it. Once the files are provided, I review them. If everything checks out, I create a sample. If the client is satisfied after that, we move on to production.


After the signage is ready, I inspect it and prepare various elements, such as stickers. Then, I hand everything over to the project manager who's responsible for setting up the trade show booth on-site. I provide instructions on where everything should be placed, ensuring everything is delivered to the client as agreed.



The proces of signage
How can you align signage with the exhibition's goals?
Studio considers this while creating the design, but I actively brainstorm with the client as well. If the client provides images that don't quite fit, I offer advice on how to perfect them. Resolution can often be a challenge; we print on large fabrics, sometimes as big as 4 by 5 meters, so good resolution is crucial. We aim for the very best result because the signage represents not only the client but also us.
"I maintain order in the midst of chaos. Signing is one of the final steps in the process, which sometimes requires last-minute adjustments. I stay calm, go the extra mile, and ensure perfection down to the smallest details."
How do industry trends influence your use of signage?
Sustainability is top of mind for many clients. If a client desires a sustainable stand, Studio incorporates sustainable materials into the design, which I then integrate into the signage design. For instance, Airtex is sometimes replaced with 100% recycled polyester – PVC-free and 100% recyclable.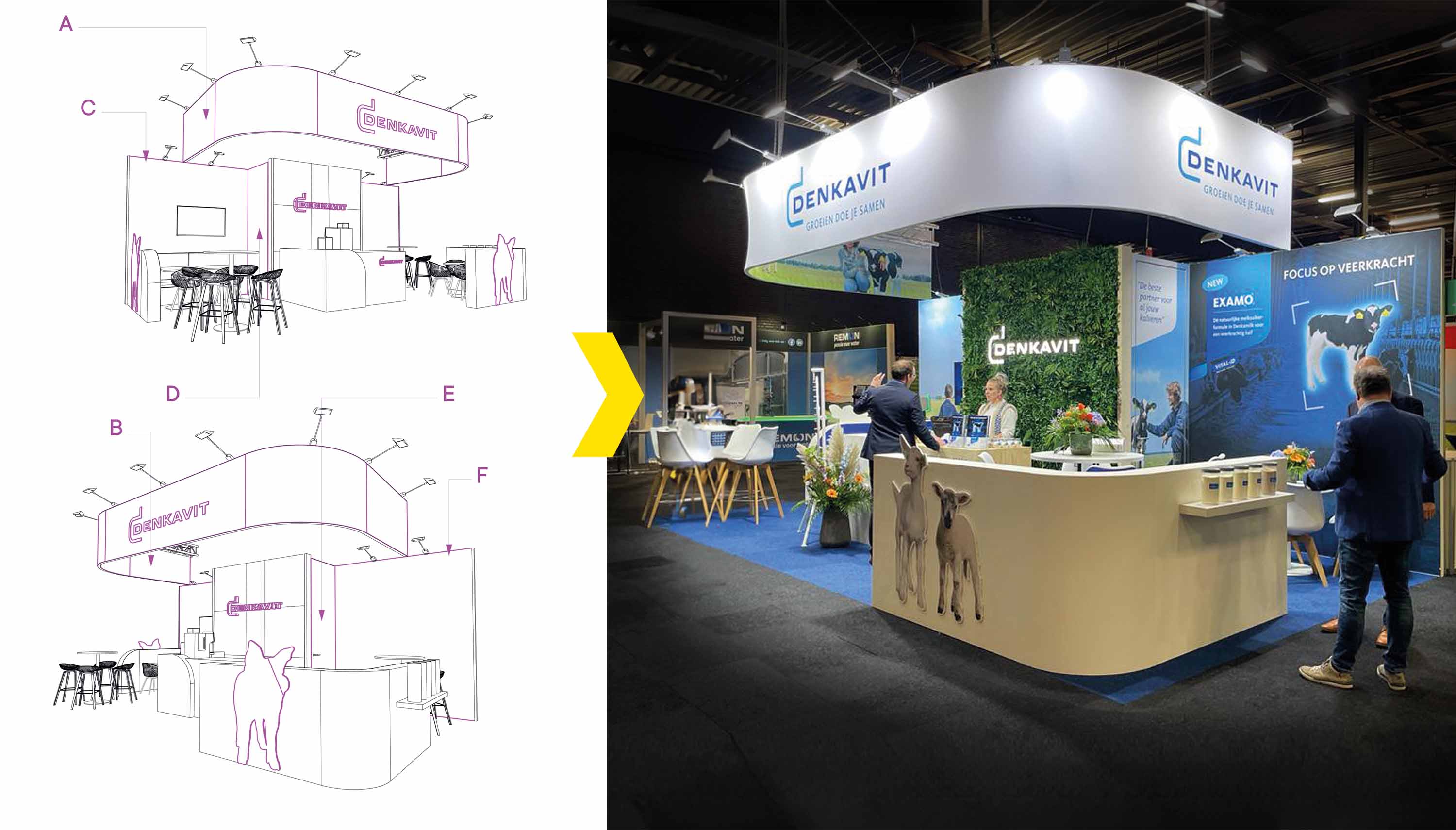 Different signage in a stand
What are the do's and don'ts when it comes to signage for exhibition stands?
Do: Establish a strong brand identity. If it aligns with your message, you're on the right track.


Don't: Don't spare expenses on signage! It's the icing on the cake. And don't underestimate the preparation time. Good signage is your calling card, so give it the attention it deserves.

So, remember good signage isn't a simple detail; it's your company's calling card. It grabs attention and leaves a lasting impression on your visitors. Wanna make an impact too? Get in touch with us and discover how signage can work for your company.