Participating in a trade show takes more than just organizing the exhibition stand. You have to invite customers, think about a unique giveaway and develop a well-formulated exhibition objective. There are so many things to do and so little time. The last thing you want to worry about is your stand. Yet, frustratingly, this is the one thing that usually absorbs most of the time. Wondering what causes exhibitors most frustration? Read on!
The exhibition stand is not finished in time
A successful exhibition stands or falls with a seamless planning and agreement. Do you know that feeling when you are right on schedule and everything falls into place? Well, you probably also know that helpless feeling when you lose track and there's just nothing you can do. When you entrust a standbuilder with your stand, you trust him to deliver the stand at the agreed time. The disappointing reality is that standbuilders rarely deliver the stand in time, causing a lot of stress and frustration for the exhibitor.
Standbuilder does not respond to email or phonecalls
Sound familiar? In the pre-order confirmation phase, when you haven't signed anything, your emails and phonecalls are answered in matters of seconds. However, in the post-order confirmation phase things change completely. As soon as the contract is signed, the response rate slowly decreases, until you have to wait days to receive a response to your email. At this point, an exhibitor doesn't only get frustrated, he loses track of the progress of the stand development. And we haven't yet talked about the response rate of standbuilders duringthe exhibition. What if a lamp breaks? The electricity stops working? There are plenty of unforeseen issues which can occur. You want to be doing anything but solving such issues during the trade show. You want your standbuilder to be stand-by all the time.
Exhibition stand is poorly finished
Finally! The stand is ready to rock the exhibition. Or not? Those who walk past quickly will not notice, but taking a good look at a stand you will see that often too little attention has been paid to the finish. Unfinished seams, unpainted walls, trashing garbage and dust.. You have invested so much effort and time into the stand. It is enormously frustrating to find out that the finish is not spot-on. Besides the fact that this frustrates the exhibitor, it can frustrate visitors as well. They will wonder how you manage your business if you cannot even manage the finish of your stand. We have made our point: A bad finish is an absolute no-go.
A standbuilder without inspiration and knowledge
'We can't design a stand if we do not know what you are looking for'. In general, a statement like this is can be experienced as being very annoying to exhibitors. However: they are right. For a standbuilder, it makes little sense to devise and design an exhibition stand if he does not know what makes you happy. The thing is: how does he deal with this? There are three possibilities:
The standbuilder designs a stand based on its own interpretation hoping he hits the jackpot.
The standbuilder refuses to make a design.
The standbuilder does not leave the exhibitor's office until he knows what he wants.
Which option is most preferable? In the case of option 1 there is a good chance that the design that is made is absolutely not what the exhibitor is looking for, which often only leads to more frustration. The third option can sometimes be somewhat overly attached, but for you as an exhibitor it is very important that the parties you work with try to understand your ideas entirely. Sometimes you will find yourself struggling and fighting without getting anywhere. It can be very helpful to have someone who takes you by the hand and guides you through the process of creating a stand that helps you achieving your goals.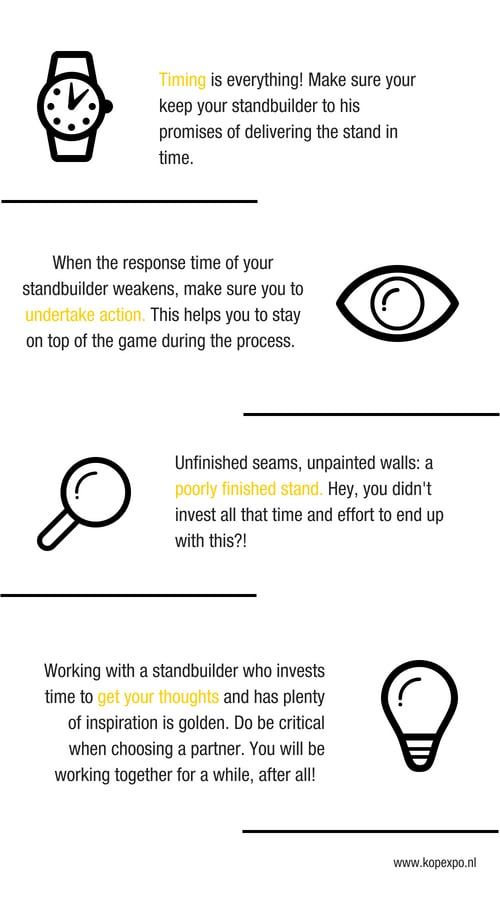 Time for change
In our opinion, at least. We are exhibitors, trade show organizers and standbuilders ourselves. We know how frustrating organizing a trade show participation can be. What we also know is how much fun it can be. At least, when you have no stress about your exhibition stand. When you don't have to worry about your stand you have plenty of energy for motivating your team, talking to customers, experiencing innovations and perhaps even writing orders. In order words: growing your business! We asked ourselves 10 years ago: how hard can it be to save exhibitors from frustration and sorrow? Well, we managed to create an answer to that question. Want to find out how we work? Send us a chat message or give us a call.