After deciding to participate in a trade show, the next step is formulating a briefing. But what makes a good briefing? At KOP, we've seen many briefings – some excellent, some not-so-great, and yes, even some downright terrible ones.

Often, the briefings we receive from new clients either are 'far too specific' or 'non-existent.' In both cases, there's a lot to win. You want a booth that reflects your brand identity, resonates with new customers with precisely the right message, and, most importantly, delivers more than it costs.

Although at KOP, we believe it's our responsibility to gather the right information to design a booth (otherwise, we wouldn't start designing), a clear briefing immediately brings us to the right path.

Because we've noticed that many exhibitors struggle when it comes to creating a briefing, we've created an overview of the most crucial information we need from our clients. This way, we can create the ultimate booth.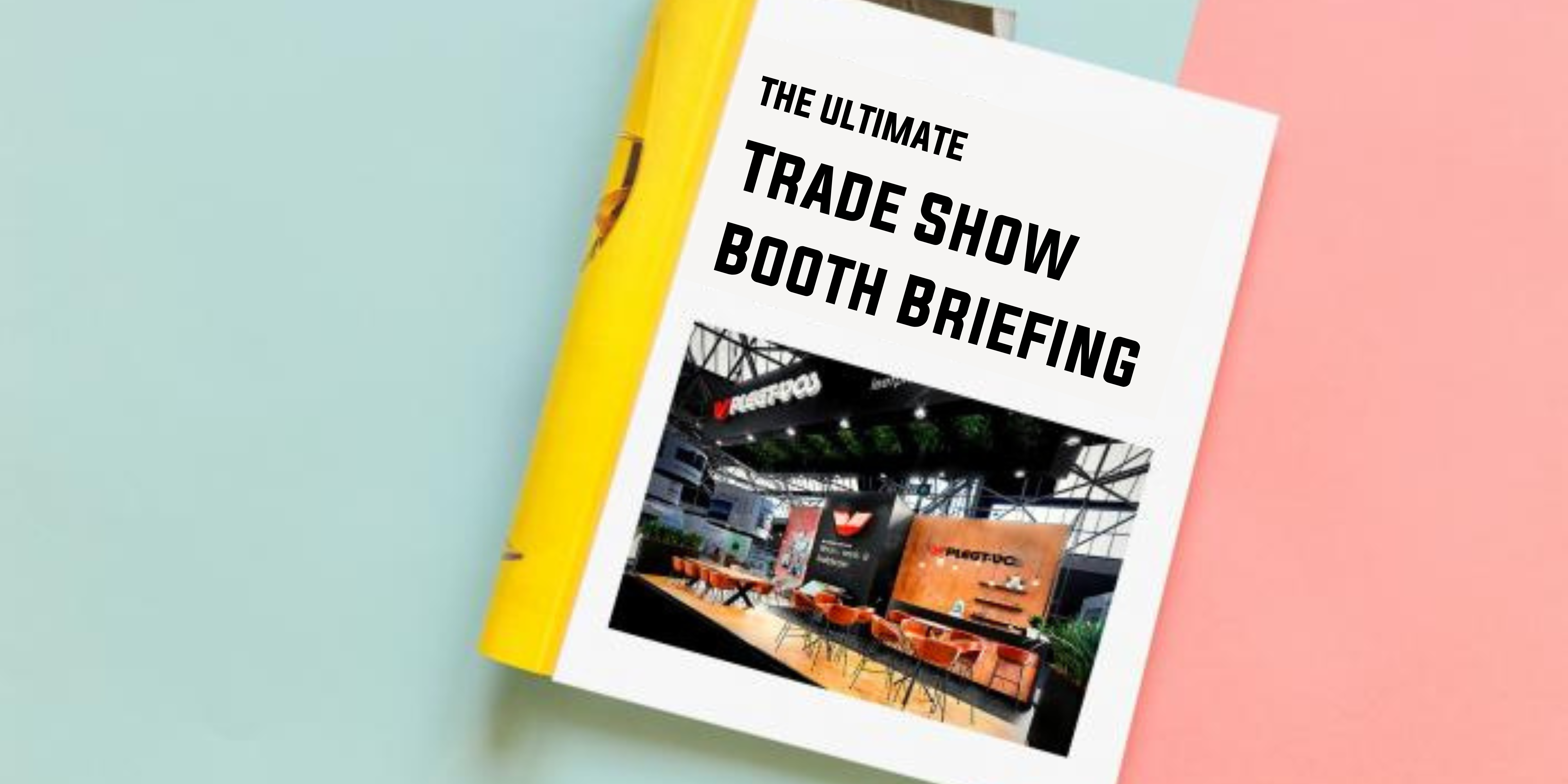 Your marketing objective and target audience
It might be tempting to opt for a standard booth design in your brand colors. Perhaps you feel it's a safe choice, or you're unsure about what you're really looking for. This is precisely why this first point is so crucial. Your marketing objectives and target audience form the foundation of the design that your organization will present at the trade show.

Key information to include in the briefing:
What does the company do and what are your core values?
What distinguishes your organization within the market?
Who is your target audience, and what are their expectations?
What are your marketing/trade show objectives?
What story do you want to communicate during the trade show?
Which products/services will you be promoting at the event?
Which competitors will also be exhibiting at the trade show?
What do they excel at and what are their weaknesses?
Are you targeting a specific type of attendee, or do you want to appeal to a broad audience?
Are there ongoing marketing campaigns during the trade show that you want to integrate?
Previous trade show experience
If you've ever organized a trade show participation (or any other type of event) before, you know how much is involved in the process. You're familiar with the pitfalls and the fact that there are always unforeseen variables. Taking these experiences into account beforehand can be extremely valuable.

That's why the following information is important to include in the briefing:
Have you participated in this trade show before?
What aspects went smoothly in your previous experience, and what didn't go as planned?
What areas do you want to focus on for future trade show participations?

Budget
A budget is one of those crucial elements in a briefing that often goes missing. Yet, it's of utmost importance to have a guideline right from the start. When we ask for your budget, it's not because we're looking to overspend, but rather because the type of booth largely depends on it. After all, there's a vast difference between a 35k booth and a 135k booth.

A skilled stand builder knows how to optimize your budget. He will propose various materials and finishes across different price ranges, ensuring you get the precise look you're seeking.

Key information to include in the briefing:
Apart from this trade show, are there any other shows you're participating in?
What are the differences between these shows? (size, applications, audience, message)
Besides the booth, what else falls under this budget?
Is there a distinct theme for each trade show, or are you using a consistent branding across all shows?
Trade show specifications and booth activities
Here, we dive into the practical side of things. Consider the booth structure and design. This information is crucial, as it allows us to maximize the user-friendliness of the booth. So, don't hesitate to clearly explain why you've made certain choices. When we know your objectives and the reasoning behind your decisions, we can provide a plan that helps you achieve your goals in an even more efficient way. It's our task to put your choices to the test and ensure you're making the most of the available space.

Key information to include in the briefing:
Why did you choose this specific trade show?
Is the trade show B2B, B2C, or both?
Are you targeting existing customers or new clients?
What's the location and size of the booth space?
What's the public profile of the trade show attendees?
Are you planning any activities during the trade show?
What additional facilities do you need in the booth? (For example, meeting rooms, a bar, or a lounge area.)

Objectives & intended results
This is where it's all about – results! If you've organized trade shows before, you likely have clear objectives in mind. If you haven't participated in a trade show previously, it's still useful to make an estimation. You can learn how to do this here.

In the briefing, it's important to address these questions:
What is the intended outcome of the trade show?
How will you measure the success of the trade show?



Conclusion
By breaking down the briefing into categories, we hope you now have a clear understanding of the information a booth designer requires to create a successful booth. Furthermore, addressing these questions will also help you to organize a successfull event. Remember: there's no right or wrong way to write a trade show booth briefing. What matters most is that the core of who you are, what you do, and why you're participating in the trade show is crystal clear.

If you're gearing up for a trade show and you're seeking professionals to help you bring an impressive booth to life, feel free to reach out to us.