As a company located near Apeldoorn, we know that almost everyone with a good sense of fashion owns one or multiple pair of shoes from Oxener. This year, owners Peter and Karin decided to move to a new location. We were happy to design and develop a brand new interior for the new store. We talked to Peter Rijkers about Oxener shoes and their new store.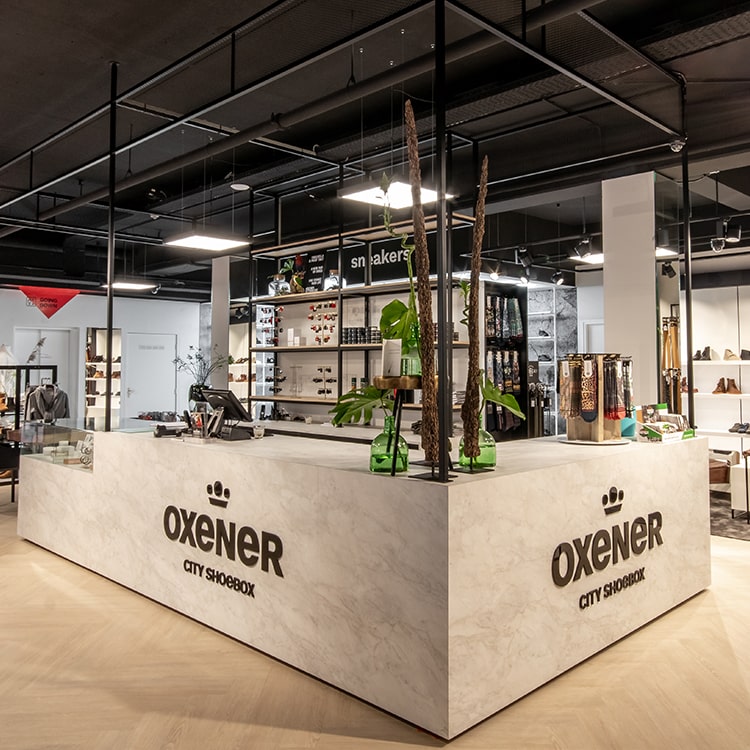 Q: How did you and Karin end up in the shoes business?
A: 'Karin's parents used to run the store. When they retired, we followed them up. We are the 4th generation who get the honour to run this business. Oxener was founded all way back in 1905. We have grown a lot eversince and at this point we have 2 large shops which we are going to merge into a new, even bigger, shop. This opens up a world of new opportunities.'
Q: This place is gorgeous! Why did you choose this particular building?
A: 'I have always loved this building and often imagined what it would be like as a shoe store. It has two floors which enables us to separate the childrens' shoes from the men- and women collection. The children's collection is in the basement of the building and is lightned by the large, old windows in the building. And there is an elevator, by the way, which is ideal for customers with a children's push chair. Besides these advantages, the shop is twice as big and there's plenty of storage space.'
Q: Why did you decide to move in the first place?
A: 'There was a lack of space in the old shops. There were simply too many shoes per squared meter. Here, we have plenty of space to present the shoes the way they deserve. In addition, the customers have a better overview of the items we sell. See here the result.
Q: What does Oxener Shoes stand for?
A: 'Our shoes are of high quality. We try to inspire our customers time on time again with the most beautiful collections. Therefore, we are very selective in our suppliers. We travel to Londen, Milano or Amsterdam and only stop searching once we have found something we can surprise our customers with. We're not only famous for our beautiful collections, we also have a great customer service. We always try to make our customers feel comfortable and at home in our store: 'come on in, the door is always open!'.
Q: Is that what you want the store to embody?
A: 'Absolutely! We value good hospitality and customer happiness. In our new store we invested in a new coffee table to invite our customers to have a coffee and a cookie or maybe a glass of wine and a snack in the evenings or weekends. Besides this, we are aiming to sell more accessoiries. The new store has the facilities to do so.'
Q: Was it difficult to agree on an interior design, as a married couple?
A: 'Well, we have our struggles, haha. Luckily, accountmanager Dave and designer Wessel have listened very carefully to both of our wishes for the store. The first design they came up with was spot-on. And believe me, that doesn't happen very often. We immediately had the feeling that our interior was in the right hands with KOPexpo. Even though we had some challenges for them: we wanted to include some of the existing elements from our old shops into the new design, which is not always easy. We are extremely happy that everything worked out so well. The end result proves how professional and skilled KOPexpo's team is.'
Q: Which part of the new interior do you love the most?
A: 'I really love the sneaker corner, it draws my eye continuously. The extraordinary lightning enhances the space and the shoes. Everybody is crazy about the corner, it's a true eyecatcher.'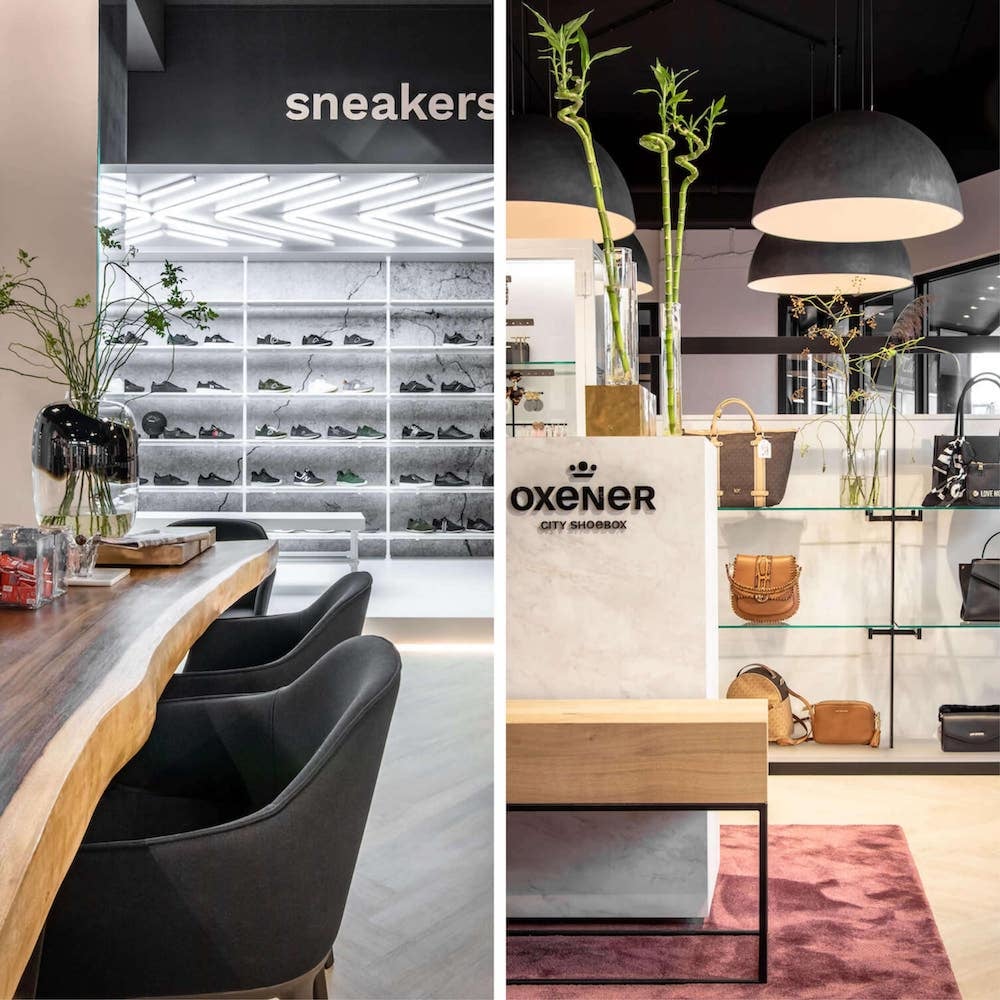 Q: What are your plans for the future?
A: 'Having more space, we can start to purchase more items and introduce some new brands in our store. This will hopefully contribute to an increase in sales and growth of the overall business. Besides this, we are going to sell clothing from the brand 'Zoom Kids' in the children's area. This is a shop in shop concept runned by the owner of Zoom Kids. This way, we can offer a complete range of children's items. But overall we just keep doing what we used to do: being a shoes shop who inspires and surprises shoe lovers.'
Q: When does the new store opens it doors?
A: 'We open the store with a huge sale in the beginning of August. By the end of september we will have our new collection ready to present, which we will combine with a grand opening party. Of course, we won't wait until september to celebrate our new store. We officially move on the 1st of August. I think we will open a bottle of campagne whenever the last pair of shoes has been moved.'
The new Oxner is open to customers from the 1st of August on. Find them at the Korenstraat 13 in Apeldoorn, the Netherlands.
Are you looking for a beautiful, new interior too? Let us know!