In the upcoming three blogs, we will take you into the world of brand experience. Designing a stand is more than just the building of it. Anno 2018, it's more important than ever to entertain and engage your visitors during the trade show. In part one of this series, we will dive into the brand experiences you can incorporate in an outstanding and creative stand design. Ready for some inspiration for your next stand?
Create that 'wow' effect
Doing something different than usual can be a challenge. But trust us: it's worth your time. For example: if you normally design a stand with enough space for product presentations, instead choose for a stand where you view those products on LED screens, so there is more room for meeting your visitors. When you start thinking differently, you'll notice that anything is possible! It will give the stand a different vibe. And have you ever considered incorporating moving elements into your stand?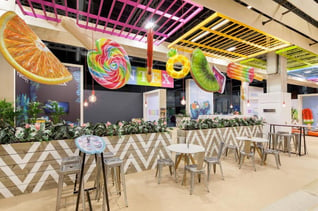 Hanging floaties for INTEX - Spoga+Gafa 2018
The sky is the limit!
A creative standdesign can be linked to the so-called 'multilevel stand'. The multilevel stand makes your stand design latterly rise to greater heights. In addition, with a multilevel stand you create more space for a coffee corner where you can talk to your visitors, or create a stage for speakers. A staircase makes people wonder what is to be seen on the next floor. This way, adding an extra floor to your stand provides more brand experience opportunities and shows that you carefully thought about the setup of your exhibition stand.
Go green
Another way to achieve more brand awareness at your stand is incorporating lots of green into standdesigns. Think of large plants, green walls and hanging baskets. This is usually combined with other natural materials such as wood. It's not only pretty, it also gives a sense of sustainability, which is an increasingly important topic for many businesses. Is your business making efforts in sustainability? Get creative and use plants! Here are some examples of 'green' exhibition stands: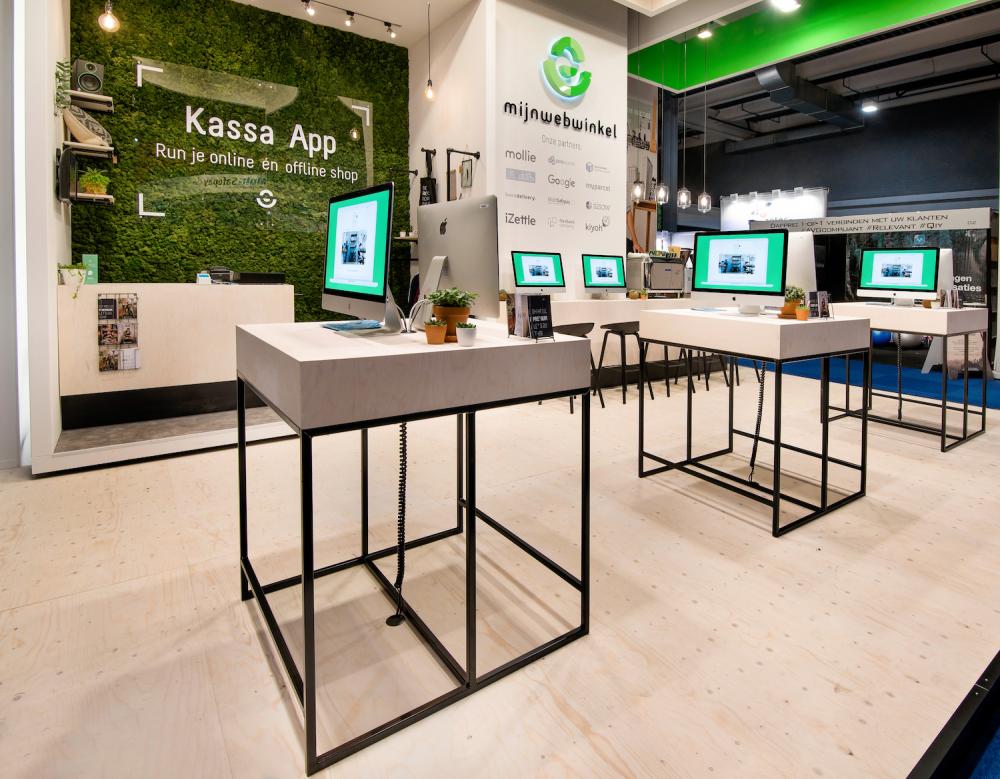 Green wall for Mijn Webwinkel - WebwinkelVakdagen 2018.
Brand awareness in stand design
Creative standdesign requires much more than drawing just a pretty picture. You have to work with a brand identity, event location, budget and event rules and requirements. Our designers love to help you out by creating that eye-catching design that touches al points. Check our portfolio if you're for stand inspiration?
Besides a creative stand design, there are more ways to transform a stand design to a brand experience. Activities on the stand, for example. In the next part of this series, we will focus on this subject.
If you have questions about this blog, or if you are curious about what our designers have to offer? Send us a message, and we will start creating that eye-catching brand experience for your business.